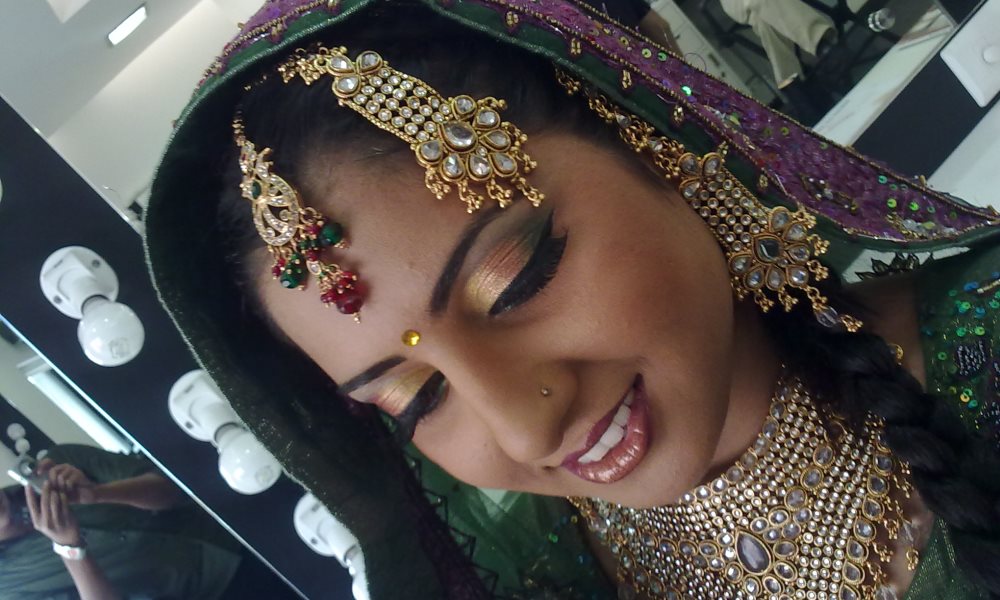 Wedding day is of greater importance in the lives of people. All girls are highly conscious for this mega event. It's advisable to girls to take special skin care at least one month before the wedding day to look more attractive, fresh and beautiful. Wedding represents the most important day in the life of a bride.
So, it is quite natural that every girl wants to look her best on the day. To attain this very purpose, most of the brides opt for skin care treatments with their beauticians, apart from appointments with their hair stylist. Talking about the skin, along with beauty treatments, there needs to some efforts on the bride's part as well, to make sure that it looks soft, smooth and glowing.
Follow the tips given below and get elegant look with fewer cosmetics:
Begin with the basics. Looking good requires you to feel good. The time between your engagement and your wedding is an ideal time to begin a regular beauty and fitness regimen, which you will hopefully follow long past your special day. Taking the time to exercise, following a simple routine of skin care, developing and following good eating practices and adhering to a program of health maintenance (routine medical and dental checkups) are the best present you can give yourself as you and your future husband begin your lives together. If such a healthy lifestyle and beauty routine are new to you, it's advisable to consult with specialists, from skin care consultants to your family health practitioners. They will help to make certain that you're on the right track and ensure that you help not harm yourself.
Basic Skin Care
Proper Cleansing
One of the first things that you need to undertake, as a part of your bridal skin care, is a proper cleansing routine. Use a skin specific cleanser for your face, while having a bath in the morning, and apply a good day moisturizer soon after as per your skin type. If, and when, you wear makeup, remove it as soon as you get back home, with the help of a proper makeup remover. Always wash your face before going to bed, at night, and follow it with the application of a good night moisturizer. Last, but not the least, make use of a good gentle exfoliating product, at least thrice a week. Whether you're in your early 20s or late 30s, signs of sun damage can start showing up on your face any time. Yes, I'm talking about those brown spots & more subtle discolorations that pop up on your skin without warning, and don't seem to be disappear, no matter what you do. As a bride, you'll of course have the whole pack of concealers ready to hide the spots, but isn't it better to prevent them as much as possible? Apply sunscreen 15-20 minutes before you step out into the sun (an SPF of 30 to 50 is good enough), and re-apply every 2 hours if you're outdoors for long
Don't forget your feet when it comes to beauty preparation
It is believed that the way the feet of a person look can tell a lot about their level of personal cleanliness and hygiene of that person. Hence the health of one's feet plays a very important role in one's overall personality. Care for foot would include scrubbing and washing the feet regularly as well as wearing comfortable shoes which would allow the feet to breathe easily and relax. Some foot care tips include washing the feet in lukewarm soapy water on a daily basis followed by rinsing them with some cold water, drying the feet with a towel and then applying foot cream. Foot skin care is required to be able to stay comfortable and active throughout one's life as otherwise, activities as simple as walking could also become very painful.
Wash your feet on a daily basis, in lukewarm soapy water. Thereafter, rinse them with cool water, dry with a towel and apply foot balm rich in emollients to soften the rough patches..
Whenever you get your feet wet, make sure to dry them thoroughly, especially between the toes. One of the highly effective foot care tips is to give the feet a foot bath by putting a cup of marbles in one's bath water and then rolling one's feet on top of these marbles so as to stimulate the nerve endings. One could also try to pick up the marbles with their toes, then contract and flex the feet before letting go of the marbles. This would allow the muscles and arches of the feet to stretch.
Another foot care tip is to keep calluses under control by using an abrasive foot scrub or a pumice stone to remove and rough and dead skin. If this dead and rough skin is not removed regularly then it tends to harden and thicken which will result in the skin getting cracked and also increases the risks of infection which would make it difficult for the person to walk. An invigorating scrub can be used on alternate day that cleanses & exfoliates dead skin to smooth the rough edges of dry & tired feet. Massage generous amount of scrub focusing on rough skin areas for soft & smooth feet.
It is also advisable to get a foot massage at times with a good moisturizing foot balm. This massage can be made even more effective by adding some peppermint essential oil to the lotion. One should use a moisturizer on one's feet everyday as part of the foot skin care routine as the skin on the soles of the feet do not have any oil glands to keep them soft. Hence a foot care tip would be to apply foot balm on your feet before going to bed and then pulling on a pair of socks. The cooling peppermint scented foot care products are available to energize & invigorate your feet feeling soft smooth & comfortable all day.
While purchasing shoes, one should ensure that they first measure their feet correctly while they are standing as the shape of the feet would change according to pregnancy and daily pressure as well as age which causes them to lengthen and expand.
If, and when, you go out in the sun wearing sandals, make sure to apply a sunscreen SPF – 30 on your feet, just like the rest of your exposed body parts.
A refreshing & cooling spray gel that softens skin helps energize feet & legs & minimize odor causing bacteria should be applied on regular bases.
The hair is the literally crowning glory of any bride-to-be. The perfect ensemble needs to be finished with a hair to die for.
Shampooing, conditioning and applying serum are the three must-dos to keep your hair healthy and shiny. Shampooing daily with a gentle shampoo is very necessary (If not daily, at least on alternate days). Shampoo should be used only on the scalp and you should let the lather clean your hair. Conditioning your hair after a shampoo is a must. It should be used only on the hair and not on the scalp. Serum adds that extra protection to your hair and protects it from the pollution and harmful sun-rays. It also gives a shine and makes the hair easy to manage.
Regular spa treatments should be taken at least twice a month, 2-3 months prior to the wedding. (minimum of 4 spa sittings taken before the big day would yield good results). More sittings are required if the condition of the hair is very bad. As there are different types of creams available for different types of skin, there are also different types of spa treatments according to the hair condition eg: Treatments for Dry & Frizzy Hair, Limp & Lifeless Hair, Curly & Unmanageable Hair etc.
It is recommended to new hairstyle or colour at least 1 month before the wedding so you can get used to the new style. Personally, I would not recommend a very drastic change in style. The ideal length for the wedding day for a bride would be medium length (3-4 inches below the shoulder) so that it can be styled nicely. Hair longer or shorter than this would be difficult to style.
It is advisable not to try any new products prior to the wedding.
It is better to keep using tried & tested products which you know suit you.
If you travel a lot in the sun and pollution, do cover your hair.
Avoid using blow-dryers as much as possible, as they strip your hair of moisture.
Good Diet & Proper Sleep
Following a proper and balanced diet forms a very important part of bridal skin care. Swapping your normal meals for a fruit diet is one of the best ways to get your skin glowing on your wedding day. Fruits help detox your system and get rid of unwanted fat and oils from your body. Not only does it make your skin glow, but it also helps you lose weight faster. What goes inside you has a bearing on the outward appearance as well. Drink at least 8 glasses of water in a day and include lots of fresh fruits and vegetables in your diet.. Coconut water yummy way to get clear skin and your body will thank you for the added health benefits coconut water is considered the purest one after water, hydrates the skin, making it look more youthful and supple. Studies say that the antioxidants and cytokinins present in coconut water have an age defying effect on skin. Consult a doctor before you pop any pills or supplements, but having multi-vitamins in the months leading up to your wedding will provide a ton of health-boosting and therefore skin-glowing benefits.
Never ever compromise of your sleep, otherwise you will end up with a tired look on your face, apart from the ugly dark circles around your eyes.
Do not take undue tension and try to remain as stress-free as possible. You might also indulge in meditation and yoga, for the purpose. A fit body plus an unhappy mind do not equal to a beautiful face. Although exercising does affect your mood positively with all those happy hormones that are released during a workout, you have to make an effort to feel all sunshine-and-bright-blue-skies inside your head. This is especially important while you're planning your wedding, because juggling the massive task of wedding preparation along with a full-time job might cause some serious stress. One of the easiest ways I've found to stay positive is to write down 5 things you're grateful for every single morning. Maintain a gratitude diary. Add a 5-minute meditation session to your morning routine, and you've achieved wedding planning nirvana! Affirm daily "I love myself, I believe in myself"
Use the good Brand Cosmetics
While you might afford to explore new brand or new type of cosmetics in the normal routine, the months prior to your wedding is certainly not the time to do so. In fact, you should stick to your regular brand for cosmetics as far as possible. Ignore the latest commercial in the television about the 'magic concealer' that has come in the market or the 'new lipstick' that makes your lips look much fuller and shinier. This is because a new product might trigger allergies on your skin, especially if the latter is too sensitive, and end up leaving spots or scars. So, it is better to put off the experiments for after the wedding. Always look for the claims of a brand; a product must be non-comedogenic, hypo allergenic & dermatologically tested.
Some More Tips
-Try to avoid junk foods and processed foods as much as possible.
 Put a limit on your caffeine consumption and stay away from foods that contain too much sugar or are high in calories.
In the months preceding your wedding, it is advisable to undertake light exercise on a regular basis. Apart from helping you keep in shape, it will improve the blood circulation and bring a glow to your skin.
While buying products for your skin, be it moisturizers, cosmetics or cleansers, always keep the type of your skin in kind – dry, oily or normal. A wrong product might end up doing more damage then good.
Try to avoid weather conditions like harsh sun or thrashing wind. In case you have to go out in such weather, make sure to apply a sun-block with at least 30 SPF and cover your face with a scarf.