Bridal Makeup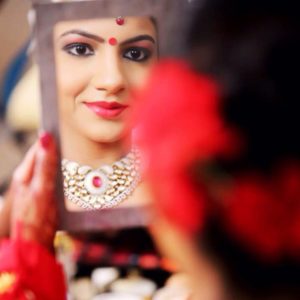 You've got your dream partner, your dress, all your hair accessories and even your jewellary picked up. Now what about your wedding day makeup? Whether you've been planning your unique bridal beauty look since you got engaged or you have no idea where to start, we're here to help you look—and feel—totally gorgeous on your big day.
"Wedding is a new chapter in one's life keeping that in mind the makeup is created to match the moment which will last forever".
From traditional to dramatic to bold or nude, we do it all. From Morning, Evening to Late Night Weddings, we create looks that match the special day & time.
The Service begins with a pre bridal counseling to understand your personality & thought process.
Every girl is different with a unique image of herself as a bride. We understand you from inside out and suggest you a perfect look for your special day. We also work upon releasing out your pre wedding anxiety & ease you out with relaxing techniques. Being a life coach as well, we handle your stress levels & guide you to step into a new life with open & beautiful mind.
We also provide you in depth counseling on your daily skin & hair care regimes, diet plans & styling tips post & pre wedding to relish your golden days
What follows next are the 3 hours of pure bliss in which the Bridal Hair, Make up, Draping & Nails will complete the service for the next step in the story waiting to be unveiled.