Personalised Grooming & Makeup Sessions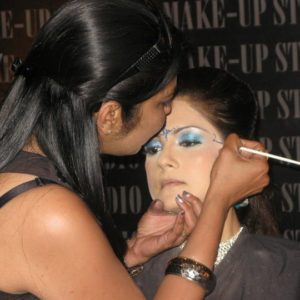 Being a mind therapist my verdict is….
"Beauty is what you eat, what you drink & what you sleep & what you think……"
This session takes a holistic approach to skin care, beauty & recognizes that the skin is not separate from the rest of the body. In this session we talk about holistic beauty regimen, you will not only learn how to treats the skin, but you will learn the skills on how to treats the whole body and the whole person.  Radiant skin and beauty can only be achieved when one is in balance or healthy. Our skin is a reflection of what is going on inside and we can't expect to have beautiful glowing skin unless our diet and lifestyle are in harmony with our constitution. What goes in our bodies shows on our skin.
If you are happy inside you will be confident to carry yourself well. Looking attractive is an art no matter what is going inside your subconscious mind.
We will teach you how to use clothing, accessories and makeup to enhance your looks. We guide you how to overcome your blocked emotions about your own personality & flaws. How to enhance feature which you unaware of & how to conceal features & areas which you don't like.
This grooming and love your self-session will give you insights about how to look your best by dressing according to your body shape and by choosing the right colours.
Learn simple and easy steps to proper skincare routine, as well as a step by step demonstration on easy, everyday makeup techniques.
The session would include an evaluation of the face shape based on which hair styles, make up, accessories, neck line recommendations are made. Detailed guidance on skin care,nail care, hair care and hygiene aspects are taught.
Make up session would include demonstration/ tutorial on Natural or day make up and the Glamour look or evening make up. Tips & tricks for countering the facial features to highlight and sharpen your face would also be given. Adequate information on make-up products suitable for your skin type would be provided.
Also a set of affirmations provided to deal your day to day stress & lifestyle disorder which hamper your health & beauty.
Topics Covered
How to create the best image with your clothes.
Accepting yourself  & dressing as per your body shape
Learn to love yourself &Grooming Tips.
Accessories & color therapy as per your temperament
Makeup for the day look/office.
Party/Evening Makeup
Basic skin care and hair care.
Who should attend
Women who are interested in improving their overall image & want to learn to love themselvs
Pre-requisites
A keen interest in self improvement.
What you need to bring
(Optional)
Photographs of clothes and accessories. Regular makeup which the candidate uses."
Key Takeaways
Will learn to create a great first impression with right kind of grooming & positive vibes.